ISDDE Conference 2005
Improving Educational Design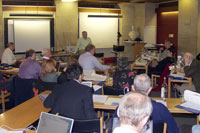 This was the conference that introduced ISDDE to a wider community of professional designers of educational tools and processes.
The conference was built around three themes, reflecting the goals of ISDDE:
Designs and their Development:  What do we know? How can we do better?
Building a Design and Development Community What can it contribute?  How can we get there?
Agenda for Action
The meeting was designed to:
be question-focussed, with some tentative answers coming from the discussions
leave plenty of time for discussion, in and out of the sessions
capture in note form the diverse views on moving towards the goals
not to spend time on premature consensus-seeking
move, over three days, from divergent thinking towards convergence on an action plan
Recognising that the conference itself was a design task, the program had some flexibility, so as to 'learn' and develop as it went on.
There were plenary talks on the themes.
Much of the time was spent on working groups, each working group to a specific brief and aiming to produce a written report in note form.  Coverage of the issues, not polish or consensus, was the priority.
Other, less conventional, sessions that went well included an exercise in improving a design and a role play of an academic selection panel considering candidates with different kinds of record in research, more or less design-focussed.